Drive Electric Colorado presents an EVs in Colorado report.
Using data from the Colorado Energy Office's EV Dashboard and the Alternative Fueling Station Locator from the Department of Energy, below is the most current and accurate sales data for EVs and charging data by county, make/model, and electric vehicle type.
As of January 7, 2023, there were 72,840 EVs on the road in Colorado, up from 66,599 EVs since October 1, 2022. Of this total, 52,257 were battery electric vehicles (BEV) and 20,583 were plug-in hybrid electric vehicles (PHEV). EVs make up around 7.86% of all vehicles on the road in Colorado. There are approximately 12.81 EVs per 1,000 people.
The average EV range in Colorado is 193.62 miles. Average BEV range is 256.91 miles while PHEV range is 29.91 miles. Average BEV MSRP is $47,482.67 while average PHEV MSRP is $44,272.77.
The most common commute time is between 15–30 minutes, with commutes 30–60 minutes coming in second (28.96%) and commutes 15 minutes or less falling closely behind (26.37%).
Key points from the most current data since June 1, 2022:
Electric vehicle adoption was up 9.37% (+6,241 EVs) in only two months from October 1, 2022.
Top selling electric car makes:

Tesla
Nissan
Chevrolet
Jeep
BMW
Ford
There are currently 4,608 total public charging ports available in Colorado, up 284 ports from October 1, 2022. Within this total, 3,853 of these are Level 2 chargers, and 755 of these Level 3/DC fast chargers. ChargePoint Network has provided most of these Level 2 ports (2,138) and Tesla owns the most DC fast charger ports (316). Charging ports are up 6.7% overall this quarter.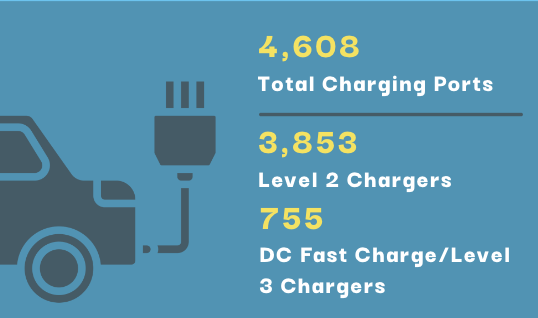 Breaking it down by county and vehicle model, here are the top models and top counties where EVs are on the road:
Denver County
11,967 electric vehicles (8,559 BEVs and 3,298 PHEVs)
809 total charging ports
Boulder County
9,840 electric vehicles (7,363 BEVs and 2,477 PHEVs)
713 total charging ports
Jefferson County
8,584 electric vehicles (6,275 BEVs and 2,409 PHEVs)
472 total charging ports
Arapahoe County
8,019 electric vehicles (5,945 BEVs and 2,074 PHEVs)
285 total charging ports
El Paso County
6,267 electric vehicles (4,434 BEVs and 1,833 PHEVs)
182 total charging ports